The Improv Comedy Club & Dinner Theatre hosted a Media and Concierge Showing last Thursday evening at the 4000 square foot venue. Improv Founding Partner Budd Friedman was in town from Los Angeles to meet, greet and catch the hilarious show by comedian Owen Benjamin of TBS' Sullivan and Sons. Atlanta's up and comer Jamie Ward served as host for the evening and funnyman Gene Pompa garnered laughs on the Improv's trademark brick walled stage.  Another highlight of the evening was a surprise closing act by famed comedian George Wallace. While enjoying the show, guests dined on cuisine from the kitchens of surrounding Andrews Entertainment District restaurants that included bistro plates from Cellar 56, pub fare from Stout Irish Sports Pub and scrumptious sushi from Czar Ice Bar. The evening was complete with upscale cocktails with favorites from Prohibition, East Andrews and Czar.
Upcoming acts: 
November 1-3: Bobby Slayton (Pitbull of Comedy)
November 8-10:  Lachlan Patterson from Comedy Central's Live at Gotham
November 29-December 1: Maryellen Hooper as seen on Jay Leno, Dennis Miller shows
December 6-8: Sean Patton as seen on Conan and Jimmy Fallon shows
The Improv Comedy Club & Dinner Theatre opened in Atlanta on October 4th. Perhaps best known for its A&E network show An Evening at the Improv, the legendary comedy club was founded by Budd Friedman in New York in 1963.  Expanding in 1975, the renowned club debuted its second location on Melrose Avenue in Hollywood, California. For almost a half century, The Improv Comedy Clubs have remained the premiere stages for live comedy. Over the decades, the talent who has played center stage represents the Who's Who of American comedy, including Richard Pryor, Billy Crystal, Lily Tomlin, Freddie Prinz, Andy Kaufman, Eddie Murphy, Jerry Seinfeld, Tim Allen, Jay Leno, Chris Rock, Dane Cook, Ellen DeGeneres, Jamie Foxx, Adam Sandler, Jeff Dunham, and Dave Chappelle.
"After researching the Atlanta market and geographical areas, we decided Buckhead was a great start to our expansion plans into Georgia. We were thrilled to pick Andrews Entertainment District in the heart of Buckhead as our 24th U.S. location," said Budd Friedman and Mark Lonow, partners of the Improv. "With eight other well managed nightlife establishments in the same location, Andrews Entertainment District was the perfect fit for us."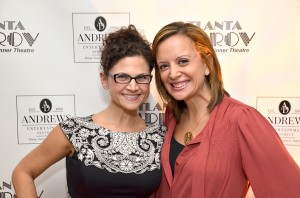 "Our vision started 10 years ago when we opened East Andrews Café & Bar with a goal of creating a place where all ages could enjoy dining, entertainment, and nightlife in one spot," said Stephen de Haan, President of Andrews Entertainment District. "What an honor, 10 years later to attract such a strong national brand as the Improv into the district."
Located at 56 East Andrews Drive NW in Buckhead, The Atlanta Improv Comedy Club & Dinner Theatre shows run Thursday-Saturday with doors opening at 7pm and shows starting at 8pm.
More information, upcoming acts and tickets can be found at www.theimprovatlanta.com